HOW DO WE TEACH THE FIVE ROOTS OF GROWTH?
The main goal of Roots Learning Center is for every child to be able to apply what they have learned at school into real actions in their life later on. In order to do this, we emphasize the ability to understand concepts and to have the best skills and attitude in our curriculum as the first step for them to grow.
The curriculum that we use is based on Roots Learning Center's research that is combined with the national curriculum set by the Ministry of Education and Culture of the Republic of Indonesia.
It is also based on the philosophy of the 5 roots of growth that Roots Learning Center believes in. We have made the framework that we will use as the main material to teach and learn, and every learning theme will refer to this framework.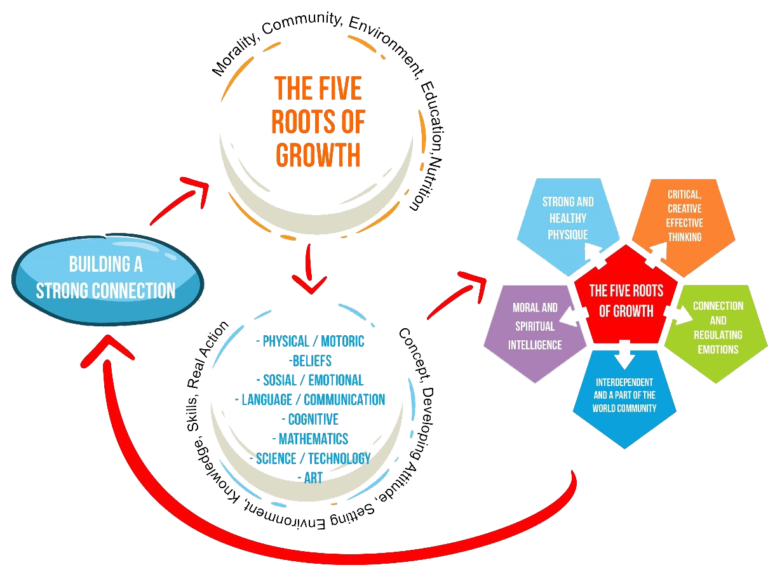 There are six main points that outline what a student will do and learn based on the Roots Learning Center's philosophy and curriculum:
1. Comprehensive concepts
To give understanding so that the student is able to understand connection between one thing and another.
How does it work?
What is it like?
What are our responsibilities?
2. Enable The environment
Spaces indoors and outdoors are created to support learning through the topic. These areas will provide a space that support different types of learning.
3. Providing knowledge
Perceptual ability
Knowing God through His creations
Learning and understanding the world
Who we are
4. Transdisciplinary skills
Communication skills
Social-emotional skills
Cognitive skills
Motoric skills
5. Developing attitude
We also focus on the development of positive attitudes: dispositions which are expression of fundamental values, beliefs and feeling about learning, the environment, people.
So that what the student does will reflect their core beliefs and be beneficial to the people and the environment surrounding them.
6. Real action
This is our main focus at the Roots Learning Center: so that the students are able to apply what they learn in the real world as an agent of change.
BUILDING POSITIVE ATTITUDE

We believe that making connection and regulating emotions are important in building positive attitude for every child, thus we apply restorative practice.
It is a series of ways that can be used to deal with conflicts and bad attitudes at school, both in formal and informal situations alike.
Our philosophy clearly states that the teaching-learning activities are done in a safe environment and always implement respective interactions.
Roots Learning Center's policy also contains restorative practice within, which specifically avoids high-risk behaviors such as bullying.
This policy will focus on how to mend relationships and to steer away from blaming others as well as punishment.
We believe in connection before correction.