in a strong body lies therein a strong soul
Therefore, we always prepare and/or ask parents to pack nutritious, healthy, and balanced meals for their children.
Food that are cooked hygienically and organically and without MSG nor excessive sugar and salt will make our bodies healthy and strong -not to mention the snacks that are packed with vitamins and fibers.
Roots Childcare encourages breast milk feeding by providing a freezer specifically for the milk as well as training our teachers to always sterilize the bottles and how to defrost the milk.
We consistently provide variety of food so that children are accustomed to different ingredients and are used to consume healthy food. We also regularly socialize our menu to parents in the beginning of a new month.
Providing food for children also means adjusting to their habits as well as their bodies. We encourage parents to communicate about any allergy and the likes that their children may have.
Furthermore, Roots Childcare's pediatrician and dentist will do routine checkups for children and they will also be available to consult with parents.
Our dedicated chef, Ibu Sinung from healthy roots, has been preparing fresh snacks and lunch on a daily basis on-site at Roots Learning Center. Under our Pediatric nutrition doctor Cut Nurul Hafifah S.pA, a nutritious morning and afternoon snack is provided to all children. 
Bringing your own lunch is okay too, although we are not able to heat food in classrooms.
Additionally, we create a homogeneous atmosphere by serving meals family-style, having teachers sit with the children during lunch and encouraging conversation and positive mealtime etiquette. Our food service ensures that all children are served nutritional foods in appropriate amounts for their dietary needs.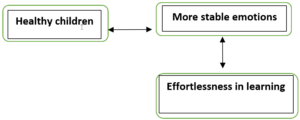 We use the following guidelines
Meals are as fresh and homemade as possible, and are prepared just before serving.
Children are served a variety of grains, including both white and brown rice, noodles and a selection of breads.
Seasonal fresh fruit is served often for both lunch and snack.
Fresh cut vegetables are served both separately and mixed into foods to enhance the nutritional value.
We serve fish, chicken and occasionally beef products (no pork).
Meals are multi-cultural, individually planned, and changed regularly to give a variety of choices.
Snacks are balanced with appropriate amounts of fruits, liquids and starches.
Juices served are 100% juice. No sugars, fructose or corn syrup are added.
We take notice of any child who is vegetarian, has specific food allergies, or special dietary needs.
Note: We change menu every month